Sweepstakes / Movie Tie-In
OshKosh B'Gosh
OshKosh B'Gosh, the nations premiere manufacturer of children's wear, was seeking to implement a high profile promotion during their 100th anniversary year.
The promotion needed to have the impact to break through the clutter, yet have the flexibility to be implemented at a local store level in a variety of ways since each retail chain in a market wanted their "own" promotion. More importantly, the promotion needed to actively support the brand imagery and positioning of a brand that is known as the highest quality garment in the industry.
We recommended tying in with the world's most popular animal star, Lassie. We knew that Paramount was about to release the tenth Lassie movie in the late Summer, and that it also happened to be the 50th anniversary of the original Lassie. These two elements combined to ensure a high profile, and Lassie possessed the perfect imagery for the brand. It was a natural fit for both Paramount and OshKosh.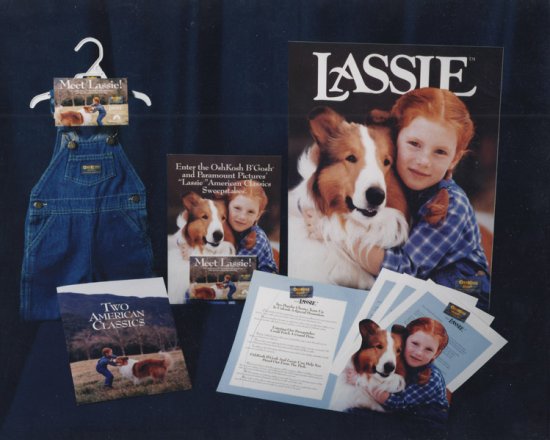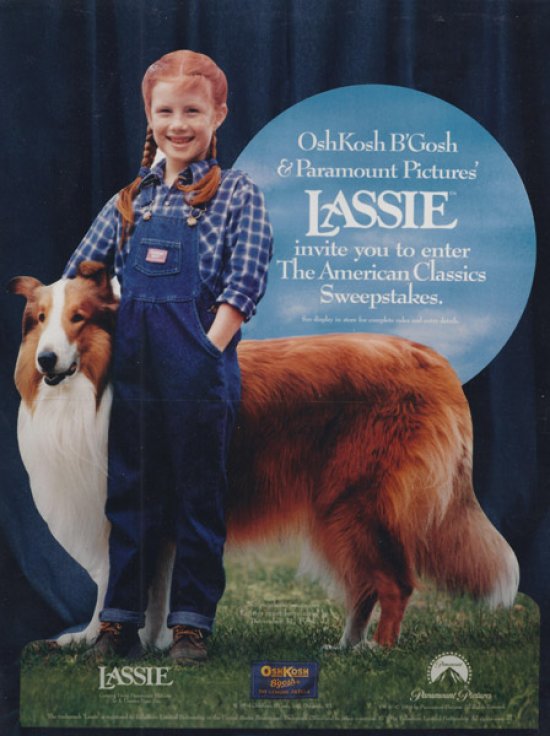 We implemented the promotion as a straight cross-promotion
Paramount helped us promote our children's wear with product placement in the movie, with rights to use Lassie's image in the promotion, and by supporting the prize structure. OshKosh in turn helped Paramount market their movie by promoting it on several million children's garments carried in almost every major retail chain in the country. The promotion consisted of several elements: a national sweepstakes in which consumers could enter to win a trip to Paramount Studios to meet Lassie, retailer customized gift-with-purchase promotions in which consumers could get free Lassie-themed items (e.g., plush toys, stickers, posters, etc.) with purchase, a line of Lassie branded clothes, and trade meetings with Lassie in attendance. Finally, to provide extra support in 17 key markets and to build relations with their top retailers, we took Lassie on tour. In each market, several local retailers would promote a personal appearance by Lassie in their store. On the designated date, Lassie would come to the store, perform a few tricks and give out "paw-tographs." It was not unusual to have several thousand people attend.
The reaction to the promotion was an emphatic thumbs-up…retailers loved the incremental sales generated by their customized promotion, the top retailers were completely taken by the celebrity appearances in their stores as well as by the extra traffic generated, and the company had a high profile promotion that clearly supported their position as the leading children's wear firm in the country.
On Pack Premium
Johnson Controls
Breaking through the clutter
When Johnson Controls introduced their new line of Energizer Automotive Batteries in WalMart stores, they were looking for a method to break through the clutter at point of sale and drive incremental sales during their top selling season. Their key competitor was Champion Batteries. We suggested that a good tactical approach when products are at performance and price parity is to add value to the product through a free on-pack. Using unique, custom packaging that prevented pilferage and resisted deterioration next to the acidic fluids in the batteries, we offered a series of free automotive and boating related premiums on-pack. Ranging from glove box flashlights to tie-ins with brands like Armor All and Thill, the on-packs increased sales by over 40% in tests and became a regular marketing tool for the product line.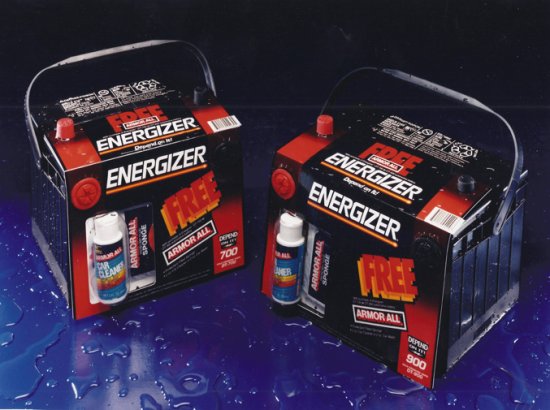 Salesforce Incentive
Kohler Faucets and Fittings
A fantasy baseball camp was the centerpiece of this one-of-a-kind incentive program
Targeted at distributors, plumbers and plumbing contractors that recommend faucets and fixtures, this unique program was designed to break through the clutter and build long term relationships. In each key market, the local sales manager selected the five top customers to attend the 5 day camp in Phoenix, Arizona. In order to include everyone, each time a plumber or contractor ordered a Kohler product, they received one entry into a sweepstakes to win one of five additional trips.
At the Fantasy Camp event, sales managers, top customers, ordinary plumbers, and corporate managers all suited up in real uniforms from their favorite teams and trained in a major league stadium with professional players that included well-known stars such as Vida Blue, Jimmy Piersal, Bert Campenaris, Sal Bando and Fergie Jenkins. The Fantasy Camp culminated in an unforgettable game between the rookies and the pros. By the end of the event, those key customers were loyal clients and active partners with Kohler.
They ran this promotion for three years and it was the centerpiece of their marketing efforts that launched Kohler Faucets as a major national faucet brand.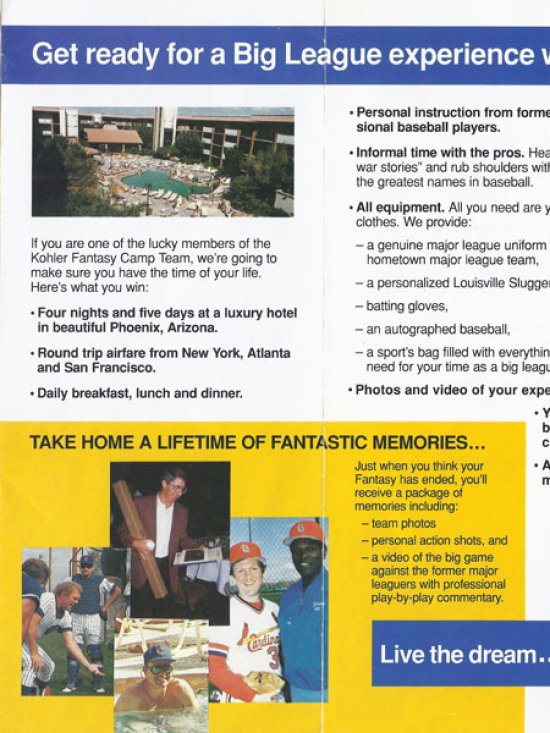 Sampling
Birds Eye VOILA!
How to Make Sampling Memorable
Our client was launching a new all-in-one meal with frozen vegetables and chicken. 70% of those who sampled the product rated it as good or excellent. The challenge was to get consumers to remember the name and where it was found in the store. We paired over 200 magicians with traditional samplers in 20 markets to make over 2,000 retail appearances in order to make the sampling experience memorable. This is the training video we did for the magicians to ensure they each did similar magic, carried the same message and reinforced the key product and brand attributes.
The innovative sampling program was credited with significantly contributing to the successful launch of the new product.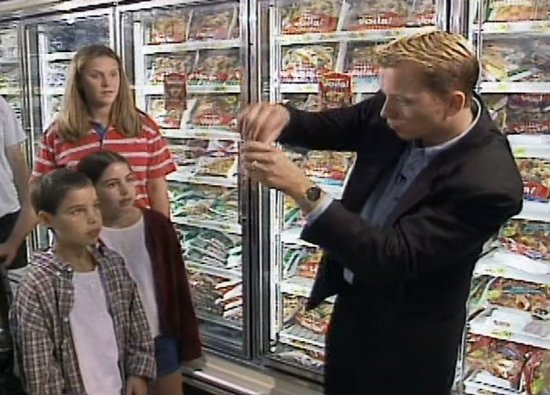 Contests
World Wrestling Entertainment
To support the launch of their new PPV programing, we created a one of a kind contest.
Wrestlemania is the WWE's premiere Pay Per View program (PPV). To extend the event, they created All Day Long Programming (ADL) which began at noon. The event was to begin at 7:00pm in Anaheim, CA (Pacific Time). We determined that we could walk into anyone's home in the continental US at noon, and be able to fly them to CA that same day in time to see the show live if they were watching the ADL program when we arrived. This logistical opportunity was at the core of the program we created. Purchase can be required for a contest, so we asked participants to send in the copy on the sign they would hold up if they won and sign up for the ADL programming. We would then pick the best sign, and send a Prize Patrol to the winner's house shortly after noon the day of Wrestlemania. From the 88,000 entries, the winner was a woman from Allentown, PA. She was watching the ADL programming when we arrived, so she and her husband had 30 minutes to pack before they were driven in a limousine to a private jet waiting at the local airport. They were then flown to California for front row seats at Wrestlemania. Video footage from Allentown and the jet was edited during the trip and shown at the event and on national television shortly after their arrival.
As a result, ADL programming became a staple offering of the WWE.
More Promotional Marketing
Assorted Clients
Sweepstakes, Contests & More
Whether it is sweepstakes, contests, on-pack premiums, sampling, rebates, direct mail, or sales force incentive programs…. there is no strategy, tactic or tool in the promotional arsenal that Geronimo has not created and implemented numerous times. Here are just a few examples.