OshKosh B'Gosh, the nations premiere manufacturer of children's wear, was seeking to implement a high profile promotion during their 100th anniversary year.
The promotion needed to have the impact to break through the clutter, yet have the flexibility to be implemented at a local store level in a variety of ways since each retail chain in a market wanted their "own" promotion. More importantly, the promotion needed to actively support the brand imagery and positioning of a brand that is known as the highest quality garment in the industry.
We recommended tying in with the world's most popular animal star, Lassie. We knew that Paramount was about to release the tenth Lassie movie in the late Summer, and that it also happened to be the 50th anniversary of the original Lassie. These two elements combined to ensure a high profile, and Lassie possessed the perfect imagery for the brand. It was a natural fit for both Paramount and OshKosh.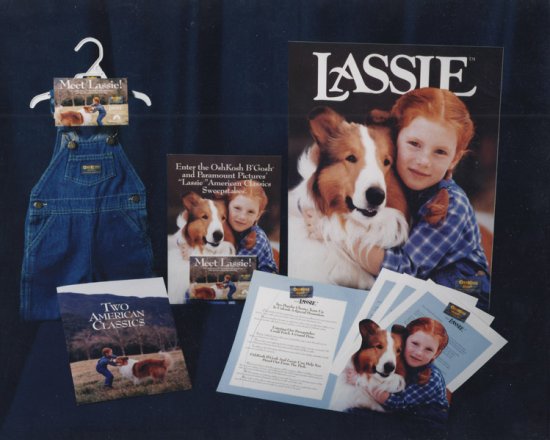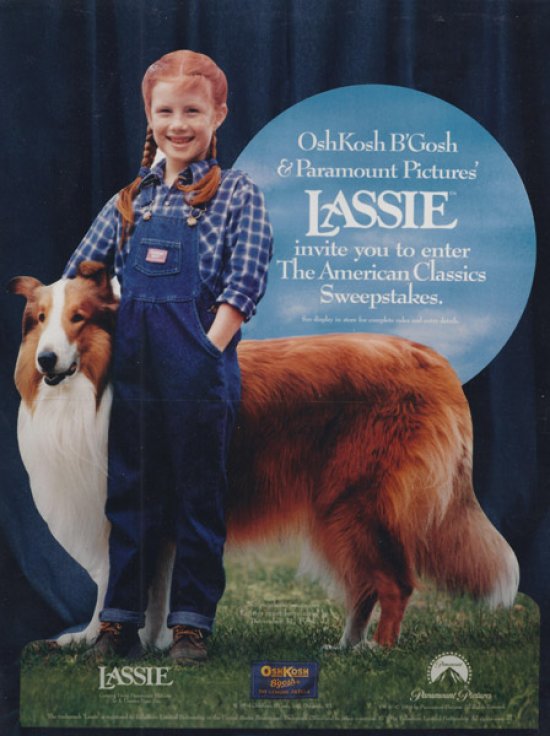 We implemented the promotion as a straight cross-promotion
Paramount helped us promote our children's wear with product placement in the movie, with rights to use Lassie's image in the promotion, and by supporting the prize structure. OshKosh in turn helped Paramount market their movie by promoting it on several million children's garments carried in almost every major retail chain in the country. The promotion consisted of several elements: a national sweepstakes in which consumers could enter to win a trip to Paramount Studios to meet Lassie, retailer customized gift-with-purchase promotions in which consumers could get free Lassie-themed items (e.g., plush toys, stickers, posters, etc.) with purchase, a line of Lassie branded clothes, and trade meetings with Lassie in attendance. Finally, to provide extra support in 17 key markets and to build relations with their top retailers, we took Lassie on tour. In each market, several local retailers would promote a personal appearance by Lassie in their store. On the designated date, Lassie would come to the store, perform a few tricks and give out "paw-tographs." It was not unusual to have several thousand people attend.
The reaction to the promotion was an emphatic thumbs-up…retailers loved the incremental sales generated by their customized promotion, the top retailers were completely taken by the celebrity appearances in their stores as well as by the extra traffic generated, and the company had a high profile promotion that clearly supported their position as the leading children's wear firm in the country.